The day of Ahn Mo-rae and Han Sang-in's wedding anniversary is pretty eventful. First, Mo-rae (Shin Min-a,
Go Go 70
) cooks breakfast,serving it on their best china, hoping to get Sang-in (Kim Tae-woo,
Woman on the Beach
) into the mood for love before he goes to work. (It works.) Second, Sang-in quits his high-end stockbroker job so that he can devote himself to his lifelong dream of running a fancy restaurant. Third, while shopping for an anniversary gift for Sang-in, Mo-rae sneaks into a closed gallery, where she encounters another illicit visitor -- a very handsome young man with whom she hides when the gallery owner turns up. Mo-rae, overcome by heat and dizziness, has a sudden sexual encounter with the stranger, who then vanishes. Fourth, Sang-in tells Mo-rae over dinner that he's expecting a mentor to help him plan the menu for his dream restaurant: a brilliant young French-Korean chef who will arrive that evening. Fifth, you guessed it: Park Du-re (Ju Ji-Hoon,
Antique, Princess Hours
), the French-Korean mentor, turns out to be Mo-rae's zipless stranger, who now will be staying with the young couple, sleeping in the room that had belonged to Sang-in's late mother.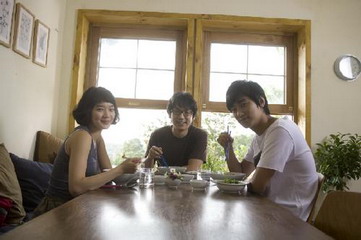 From there the story goes about as you would expect. Mo-rae is powerfully drawn to the seductive Du-re while Sang-in gets cooking lessons from him. Eventually everything comes crashing down, but
Kitchen
is a comedy, so it turns out all right in the end. (The official English title of this movie is
The Naked Kitchen
, but it's a cheap tease, since nobody gets naked, even metaphorically. This is a very buttoned-up movie. The Korean title is nothing but the English word
Kitchen
, so that's what I'll call it here.)
Kitchen
didn't do well at all, which is surprising since it features three bankable stars. It wasn't even noticed as a coming release here at Koreanfilm.org. I wouldn't have known about it if it hadn't been featured in a book-length survey of Korean movies for 2008, which gave some idea of its visual appeal and emotional dynamics, so I picked up the DVD. First-time director
Hong Ji-young
made a very pretty movie, her cast turned in fine performances. So what is wrong?
If not for the fact that not many other people liked it either, I'd guess my lack of enthusiasm for
Kitchen
was just my personal hangup. First, I suspect someone loved Jean-Pierre Jeunet's 2001 hit
Amelie
, a movie I hated for the way it reveled in its own cuteness - so if you liked
Amelie
, maybe you should give
Kitchen
a try. Shin Min-a seems to be channeling Audrey Toutou, and has been made up and coiffed to recall her perky obnoxiousness. The soundtrack slathers on a Parisian-style waltz, Sang-in's restaurant will feature a Korean-French fusion cuisine, and of course Du-re is a French-Korean adoptee. The food is a major character in the movie, with lots of close-ups of yummy-looking table spreads.
Under all the Francophile syrup there are interesting characters. Mo-rae and Sang-in have been friends since childhood. He didn't mind that she followed him around, calling him
hyung
or Big Brother (though Korean girls are supposed to call their older brothers
oppa
), and their marital relationship is an odd but appealing mix of hot sex and best buddies. The script explores this intelligently, as when Mo-rae tells Du-re, "To me, love doesn't mean much. It's Han Sang-in. Not because I don't love someone, or love more someone else. I'm just trying to be me."
Kitchen
also flirts, ever so delicately, with male homoeroticism. There's a hint that Sang-in and Du-re had an affair when they met in France; when Sang-in shows Du-re his room, Du-re asks him to spend the night with him. Sang-in begs off awkwardly: "Well... I have a wife." But
Kitchen
doesn't explore these possibilities; it refers to them glancingly, trying to make itself look spicier than it really is. It always draws back to the pretty surface. In this it suffers by comparison with the far superior
Wanee and Junah
(Kim Yong-gyoon, 2001), which shares some of its topics: a relationship more of friendship than of passion, flirting with bisexuality and gender games.
Kitchen
just frustrates me, though; because it falls so far short of what it might have been. The film seems torn between taking chances and playing it safe, and playing it safe didn't help either artistically or at the box office.
(
Duncan Mitchel
)
via: http://www.koreanfilm.org