The action fantasy blockbuster
Woochi
opens 500 years ago in a mythical past, when evil goblins break free of their confinement and steal a powerful Pipe of the Prophecy. In desperation, the community turns to the two greatest Taoist ascetics of their time, a man referred to as the Master and the more ambitious Hwadam. They are successful in reclaiming the pipe, however an unexpected murder takes place, and the blame is placed on Woochi, an impish young wizard under the tutelage of the Master. Together with his faithful dog Chorangyi (who most often goes around in the form of a human being), he is magically sealed into a painted scroll and left there for centuries.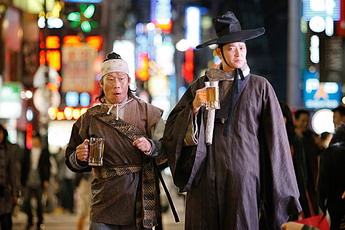 Jump ahead to the year 2009, and the shining metropolis of modern-day Seoul is once again set upon by goblins. After witnessing the destructive power of the creatures, who are disguised as ordinary humans, three Taoist wizards reluctantly decide to visit the museum where the ancient scroll is kept and to release Woochi back into the world. If he can defeat the goblins, he will be allowed to remain free, they tell him. However Woochi is not the easiest ally to deal with; he has both a love of alcohol and an innate sense of mischief which often throws him off course.
Woochi
is a strange and undeniably original sort of film: a mix of martial arts, silly humor, memorable characters and CG pyrotechnics. It features a strong, star-filled ensemble cast and a high effects budget, which together was enough to turn it into a holiday event. Despite opening in theaters only a week after the release of
Avatar
, the film hung on to sell 5.4 million tickets over the winter season.
Popular star Gang Dong-won (
Secret Reunion
) plays the lead role of Woochi, a flamboyant part that shows off his good looks and must have been a lot of fun to shoot. Actress Lim Soo-jung (
A Tale of Two Sisters
) also takes a role with a very wide range that adds something new to her repertoire. However critics have focused much of their praise on the performance of Kim Yoon-suk (
The Chaser
) who effortlessly embodies the imposing villain Hwadam, and Yoo Hae-jin as Woochi's dog. Yoo, who over the years has taken important supporting roles in hits like
Tazza
and
King and the Clown
, has a rare gift for humor which is given full rein in this part. He may also have contributed to the film's commercial success in another way: coincidentally or not, shortly before the film's release it was leaked that he is dating well-known actress Kim Hye-soo, and he found himself at the center of a media storm.
Director
Choi Dong-hoon
proves once again with this film that he has a keen sense of the Korean audience's tastes. After three straight box office hits, he ranks as one of the most consistently successful directors working in Korea today. Nonetheless, despite
Woochi
's strengths, it lacks the punch and linguistic inventiveness of his previous film
Tazza
(2006). It is certainly simpler in a narrative sense, without the twists and turns of his previous work. The director argues that it was his intention all along to make something light and fun this time around. But there are other things missing from this film as well. I think Ross Chen at Lovehkfilm.com hit the nail on the head when he said that the film lacks heart -- as entertaining as it is, you never really develop any emotional attachment to the characters. This doesn't seem to have hurt it any at the box office, but one can't escape the feeling that it could have been much more than it ultimately is. (
Darcy Paquet
)
via: http://www.koreanfilm.org/kfilm09.html#woochi